Data Center Upgrade Boosts Network Speed
We're pleased to announce that we have completed an upgrade at our data centers in Buffalo, NY. Server Mania offers customers the fastest, most reliable service possible, and this capacity upgrade is the latest example of our commitment to staying ahead of the curve.
Server Mania customers have always enjoyed the fastest speeds at the lowest latency. As of today, our Buffalo, NY, network boasts a total capacity of 200 Gbit per second or 200,000 Mbit per second. Compared to a standard residential cable internet connection, this is a blistering 10,000 times faster!
We provide multiple connections to premium transit providers, which gives Server Mania customers extensive redundancy and the flexibility to find the fastest traffic path in real time. The Buffalo network now boasts 80 Gbit from Hibernia Atlantic (double the previous 40 Gbit); 60 Gbit to Telia Sonera (up from 40 Gbit); 40 Gbit to XO Communications, and 20 Gbit to Zayo.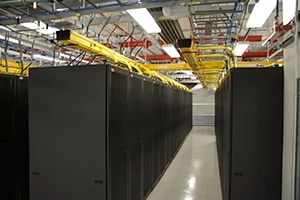 Telia Sonera is among Europe's largest networks and is one of the fastest growing Tier-1 networks (highest quality standard) in the United States. This recent network enhancement gives Server Mania customers access to significantly increased overseas transmission speeds.
As a result of our continued investment in the latest technology, Server Mania customers enjoy an unparalleled 100% uptime SLA and some of the fastest speeds in the industry. Our Los Angeles facility is next on the list for enhancement.
Check back here for updates soon!