Introducing the Redesigned Hybrid Server Lineup
Hybrid Servers have always been a popular option among personal and small business users. Combining the isolated resources of a Dedicated Server, with the cost savings of a virtual environment, Hybrid Servers are often the perfect option for a lighter load. That's why we've completely redesigned our Hybrid Server offering to deliver maximum performance and value.
See Also: How to Deploy Your New Hybrid Server
What is a Hybrid Server?
A Hybrid Server is a slice of a Dedicated Server. Using KVM virtualization technology, we are able to create completely isolated environments for each server that include completely dedicated and guaranteed resources. KVM virtualization ensures that one user is not able to consume more than their fair share of resources. This ensures a stable and reliable server hosting experience.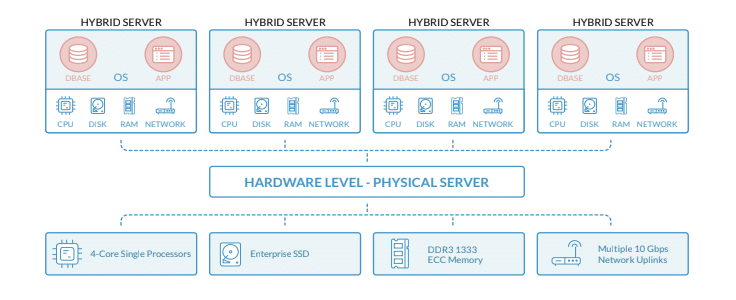 What's the Difference Between a Hybrid Server and a VPS?
Hybrid Servers and VPS are both similar to one another. The main advantage of a Hybrid Server is that there are only a few tenants on each physical server, whereas a VPS node is typically a very large dedicated server which is shared amongst dozens or even hundreds of VPSes.As a result, Hybrid Servers have a much more consistent and stable environment for users.
Our new cPanel server performs flawlessly thanks to ServerMania and their hybrid hosting.
Florismart Lepage
What's New in the Hybrid Server Lineup?
We've redesigned our Hybrid Server offering to provide more resources at a decreased cost. Each of our Hybrid Server plans is now powered by enterprise-grade Solid State Drives, delivering the ultimate disk performance.
We've reduced the number of Hybrid Server plans so that we can focus on the resource plans that modern Hybrid users demand. Our Hybrid lineup is split into two streams, E3 Lite Series and E3 Performance Series.

See Also: Learn More About Hybrid Servers in our Hybrid Servers Catalog
E3 Lite Series
The right choice for any application that demands stable performance on a budget. These servers are hosted on 100Mbps connections with up to 8GB of RAM and 500GB of enterprise-grade SSD disk space.
Key Features:
2 vCPU cores
8GB of RAM
10TB Bandwidth
Starting at $30/month
E3 Performance Series
Designed for users that care about getting the most resources for their money, our E3 Performance Series feature blazing fast 250Mbps connections, 16GB of RAM, and up to 1TB of enterprise-grade SSD disk space.
Key Features:
4 vCPU cores
16GB of RAM
10TB Bandwidth
Starting at $60/month
Why Would I Choose a Hybrid Server Over a Dedicated Server?
While bare-metal Dedicated Servers will always deliver the ultimate performance for any application, Hybrid Servers are best for:
Budget-conscious users
Personal applications
Activities that may require instant OS reloads as the OS can be reloaded in our control panel at any time
Applications that require quick setup – Hybrid Servers can be ready in just a couple minutes.
Testing out a smaller server before migrating to a Dedicated Server
What Applications Are Ideal for Hybrid Servers?
Hybrid Servers are perfect for personal applications as well as business applications that don't require the larger resources of a Dedicated Server, or when budget is limited.
Some personal applications that are great on Hybrid Servers include:
Creating Your Own VPN Server: You can easily setup your own personal VPN server in just a few minutes by following our VPN Setup tutorial.
Setting Up A Personal Cloud Backup: If you want to create your own Dropbox like service to backup mobile and desktop devices automatically, Hybrid Servers are great for configuring OwnCloud.
Creating a Web Server: Personal websites running WordPress or other web apps will feel right at home on any Hybrid Server.
Creating an Email Server: Have you ever wanted to run your own email server so that you can ditch external services like Gmail? Check out email server setup tutorial.
Some business applications that may be suitable for a Hybrid Server include:
Hosting a Corporate Website: If you are a small business and your website is not running any large e-commerce apps, then a Hybrid Server may be the perfect choice for hosting your corporate website.
Creating a Company Email Server: If your business is looking for an alternative to Google Apps, a Hybrid Server may be the perfect choice for hosting a small business email server.
Development and Staging Environment: Hybrid Servers are great for development and staging as they are an affordable solution and the OS can be reloaded at any time if you need to wipe the system quickly or changed Operating Systems.
Choose Your Hybrid Server Today
Are you ready to experience a Hybrid Server first hand? Visit our Hybrid Servers page today and your new server will be deployed in no time. Still have questions about Hybrid Servers? Book a free server consultation and our team will find the best server solution for your needs and budget.