Meet ServerMania: Ayolt de Roos
We're privileged at ServerMania to be surrounded by a team of enthusiastic and passionate experts in each of their fields. This week, I sat down with our marketing coordinator, Ayolt to learn more about his career and what he thinks makes ServerMania such a great place to work.
See Also: Meet ServerMania – Jose Velilla
What's your job title here, and what do your main duties include?
My job title is Marketing Coordinator. What this entails is that I make sure that all the on-going tasks and projects within the marketing team run smoothly, that everybody is sticking to their deadlines and that nothing falls off the radar. Also I am the point of contact within our team for other departments, so whenever they need Marketing to chime in, they request that through me.
How long have you worked at ServerMania?
I joined the ServerMania team in June 2019, so I've been with the company for just over a year now. This is actually my first job in Canada, since I moved to Hamilton from Amsterdam (The Netherlands) in March last year.
Why did you decide to come to work here?
The responsibilities in the role of Marketing Coordinator interested me very much. I've always liked sitting in the middle of a department, being involved in all the things going on and being allowed to put in my two cents. You are allowed to be nosy and butt in, since it's all "part of the job".
Another thing that interested me was the fact that I've never worked in the IT or hosting industry before. I have worked in the FMCG (Nestlé Nespresso), software (Buzzcapture/OBI4wan) and cultural (Stichting CJP) sector, and broadening my scope was something that I felt was a good opportunity for me.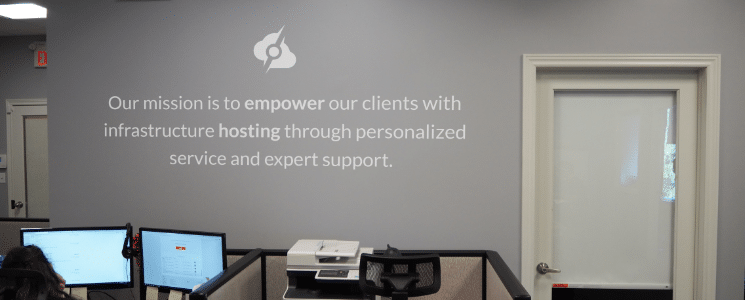 What's your favourite part about working at ServerMania?
There is a lot of freedom in what we do within the Marketing department. Obviously we have yearly and quarterly plans, certain targets need to be met and there are brand guidelines to follow, but everybody within the team gets a lot of say in how they want to execute on the proposed plans.
Since we're technically ServerMania HQ, there are no strict lines drawn out as in what needs to be done and how we should approach things. That is a very nice way of working, since you can let your own creativity and analytical thinking do the talking.
What do you think sets us apart from the competition?
I see and hear my colleagues in both Account Management and Support work their butts off on the daily, all to make sure that our clients – and prospective clients – get the best services possible. In a world where more and more support is tackled by chatbots or simply by forwarding people to extensive FAQs, I think that ServerMania sets itself apart from the rest by prioritizing human contact and direct support lines, 24/7.
What advice do you have for someone starting their first job in the IT or marketing industry?
Don't be scared off if you're not up to speed on the latest technological developments or on the newest server CPUs out there. I knew nothing about servers when I started with ServerMania and although I still don't see myself as an expert, I do feel like I learn something new every day.
At the end of the day – if you're in marketing – you have to believe in the old saying: a marketer needs to be able to sell anything, to anybody. You need to find your product or service's unique selling point, regardless whether it's capsuled coffee or hybrid servers, and help people understand how their life can be made easier, thanks to you.
Tell us about a memorable experience you've had working on a project here.
We've been working on the development of our Cloud product for quite some time and at the beginning of the year our efforts really got into gear. The launch was planned for June/July and we were all working towards this end goal as a team.
All was going well, but like pretty much the entire world, halfway through March we were all forced to start working from home, due to the COVID-19 pandemic. It was to be seen whether we would be able to successfully roll out our new product, with everybody working from their home office (or in my case kitchen).
In the end, everything went extremely well. Our product was launched without any issues, right on time, exactly as planned. It was odd to flip the switch while chatting over Slack, instead of being in one room together, but we made it work. Now we just have to wait for the proper moment to celebrate, in person.
When the workday is done, what do you do for fun?
I'm a big fan of craft beer, so I enjoy drinking. No, that's not it, just kidding! My wife and I do like to visit as many new breweries in the Hamilton region as possible, sampling new beers and finding our favorites. It's especially porters and stouts that I'm drawn to a lot.
There are also healthy things I enjoy doing, such as biking and running. Last summer we got mountain bikes and we've been exploring Ontario, one ride at a time. And yes, we do purposefully plan our routes to end at breweries we've never been to before, so that we can combine both our hobbies in one go.
Lastly, I love watching sports. Soccer (or as we Europeans call it: football), baseball, hockey (or as we Europeans call it: ice hockey), tennis, golf, curling, darts, you name it, I'll watch it!
Want to Learn More About ServerMania?
Don't forget to check out the rest of the ServerMania Blog, including the introduction of the ServerMania Cloud App and the Benefits of Hosting SQL Databases in the Cloud.