Intel vs AMD – Which Is The Better Option In 2023?
Whether you are looking for gaming performance, database hosting, or simply dedicated server hosting, you must be aware of the fierce battle for CPU dominance between these two titans and the AMD vs Intel battle that has grown in the last few years.
While Intel's processors have historically outdone AMD processors in single-core raw power, AMD's CPUs have made significant improvements in their core count and threads, and outsold its competition as a result, when it comes to multi-core performance.
Until 3 or 4 years ago, AMD's marketing team seemed to struggle to get the same exposure that Intel garnered. Around this time they started targeting the PC gamer and made improvements to their packaging, using different color schemes, and taking a new tack with their marketing efforts. This led to the release of their Ryzen series which changed the game.
When different processors are becoming indistinguishable, it is essential to know which one you should use. In AMD's favor, they have historically offered more value in their processors, while Intel holds the reins with stronger brand recognition (the Nike of microprocessors).
AMD vs Intel is currently in a battle for market share and are developing different technologies in their effort to get ahead. For example, Intel uses LGA1200 sockets for their processors while Ryzen chips rely on AM4 sockets, meaning that components such as motherboards must be chosen accordingly, or they will be incompatible.
Fortunately, both AMD and Intel offer a wide range of CPUs to suit all applications.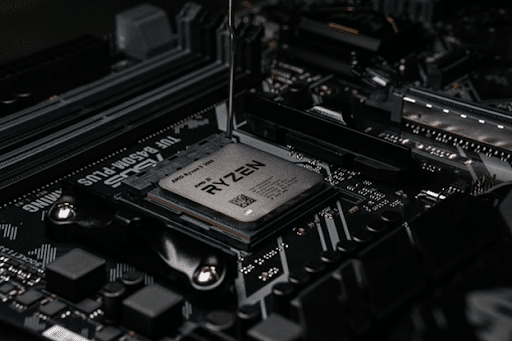 See Also: (Live Webinar) Meet ServerMania: Transform Your Server Hosting Experience
Consumer vs Enterprise CPUs
Not all CPUs are made the same. The CPUs that are built into your server are meant for sustained workloads and can run at 100% capacity all the time, whereas the parts in the desktop processors are not rated as high. Because of this, server CPUs are generally slightly more costly than would be for a desktop PC, but offer a higher level of productivity performance.
Most desktop processors also cannot handle server-only functions, such as performing error-correcting codes and registered memory. The largest difference between the two is the fact that server CPUs will more often than not have higher core counts than those used on a desktop PC, which results in higher power consumption. This is because server workloads are much more multi-threaded than most desktop workloads, due to the extra cores.
Intel processors have enjoyed supremacy in this segment for years, but AMD's Ryzen Threadripper has changed the landscape quite a bit since its release. AMD traditionally doesn't distinguish between its server processors and the desktop space. The AMD CPU used in servers are consumer-grade chips that are so powerful that they work incredibly well in servers (in 2017 AMD released their Epyc line, built specifically for servers). Whereas Intel has nearly always had a line of processors designed specifically for servers.
Intel vs AMD Processors Explained
As is the case for any brand, they usually have names for each model or series. AMD offers their Ryzen processors: Ryzen 3, Ryzen 5, Ryzen 7, Ryzen 9, and Epyc lines, while Intel offers their Silver, Gold, and Platinum lines as part of their Xeon brand.
AMD has always been a viable option for processors and has only improved with their Ryzen series of CPUs. The most recent line, AMD Ryzen 3, 5 and 7, and 9 chips incorporate solid multi-core performance and deliver affordable processors.
Intel's Xeon E-2300 series of 3rd gen scalable processors were released in Q2 of 2021 and offer 10 new processor varieties, including options with 4, 6, or 8 cores.
AMD's Ryzen 3000 CPUs offer a huge difference over the previous Ryzen 1000 and 2000 CPUs. They feature the redesigned Zen 2 architecture, AMD's then-latest entry into its Ryzen line proved to be more than just a slight generational improvement, it delivered. Ryzen 3000 CPUs are so much in demand that it is very difficult to keep them in stock.
However, while AMD has already jumped to more advanced 10nm and 7nm architectures, many industry watchers were surprised by Intel's decision to continue with 14-nanometer architecture.
Take AMD's Ryzen 5800X chip, it comes in at a reasonable price and incredible performance improvements over the last generation, which makes the 5800X one of the best processors currently available. They still use AMD's AM4 CPU socket, which means that they are backward and forward compatible, while Intel holds a long history of releasing new processors that are incompatible with older socket types.
AMD's continuous use of AM4 sockets over the previous generations has provided users with tremendous value concerning future upgradability. For instance, if you were using a 3900 chip on an Asrock motherboard, upgrading to the new series is as easy as downloading a BIOS update for your board. While the odds of being able to take an old Intel chip and put it in your newer motherboard or vice versa is slim on Intel's side.
Intel also offers a dual chipset in many of their lines, whereas AMD only started recently with the release of their Epyc line of server-specific chips.
AMD Ryzen 5800X Callout Graphic. Copy (two lines): Is the AMD Ryzen 5800X for you? Learn more
Intel vs AMD Performance Comparison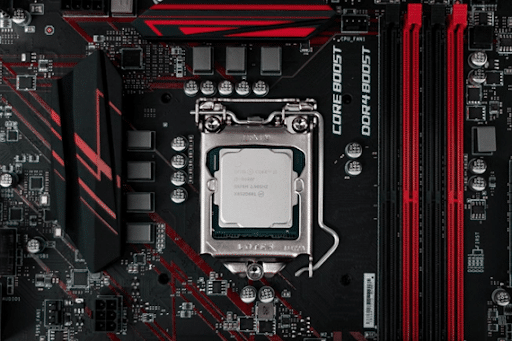 AMD changed its strategy a few years ago and put a focus on gaming performance to take market share from Intel and released the 3000 series. The CPU performance of this line showed a marked increase in workload capacity.
The 3900X features 12 cores, 24 threads, a base clock speed of 3.8GHz, a boost of up to 4.6GHz, and a TPD of 105W.
AMD's Ryzen 3950X is one of their top server processors with 16 cores, 32 threads, a base clock speed of 3.5GHz, a maximum turbo boost of 4.7GHz, and a TPD of105W. Both these chips are phenomenal, making them perfect for high-end gaming or multimedia editing.
Upon first glance, you would think that the Intel Xeon E5-2695 v2 might not compare. To begin with, the price is dramatically lower than the 3950 and it may not look as beefy from the outset, seeing how it comes with 12 cores, 24 threads, a base clock of 2.4 GHz, with a max boost to 3.2 GHz.
The interesting thing about the E5-2695 v2 and how it compares directly with the aforementioned 3950X is that the 2695 is not only far more cost-effective than the 3950, but when you consider the capability of the 2695 using a dual chipset, now it becomes a contender and still at a price considerably lower than the 3950.
With multi-core server workloads, these CPUs are perfect for any high-end gaming, creative tasks such as 4k video editing, or 3D rendering that need a large amount of power at an affordable price.
Conversely, AMD's top-of-the-line variant, the Ryzen Threadripper 3990X is in a league of its own with high clock speeds due to its 64 cores and 128 threads. It has a base clock speed of 2.9GHz, a boost speed of up to 4.3 GHz, and a TPD of 290W. Thanks to its multi-threaded performance, this processor is an all-purpose workhorse that can be used for VPN, large data computations, AI, and military applications.
On the Intel side, its Xeon Silver 4214R is comparable to the Ryzen 3900X, also featuring 12 cores and 24 threads, however, the clock speed on this one is lower, with a base of 2.4 GHz, a max. of 3.5 GHz and a TPD of 100W.
While the Intel E5 2620 V4 matches AMD for cores, coming in at 16, again they fall just a little short on clock speed with the 2620 V4 having a base speed of 2.1 GHz and boosting as high as 3.0 GHz. The TPD is 85W.
It's difficult comparing anything to Ryzen's Threadripper, but the Intel Xeon E5-2699 v4 scalable processor compares very well, coming in with a core count of 22, making the thread count 44. The base clock on this chip is 2.2 GHz, while the max. boost comes in at 3.6 GHz.
Callout Graphic. Copy (two lines): Need Help Deciding? Book a Consultation.
Overclocking Headroom
Intel processors have commonly had the most overclocking headroom, which gives you more over the baseline speed performance and, in the past allowed for higher frequencies than AMD Ryzen CPUs. Still, it is also worth considering how stable your CPU will be with such high clock speeds. Here are some of the other popular Intel models that compare to AMD's Ryzen 9 line.
CPU Processor Base Frequency Max. Turbo Frequency
AMD Ryzen 3900X 3.8 GHz 4.6 GHz
vs Xeon Silver 4214R 2.4 GHz 3.5 GHz
AMD Ryzen 3950X 3.5 GHz 4.7 GHz
vs E5 2690 v4 2.6 GHz 3.5 GHz
AMD Ryzen 3990X 2.9 GHz 4.3 GHz
vs Xeon Gold 6338 2.0 GHz 3.2 GHz
AMD Ryzen vs Intel Xeon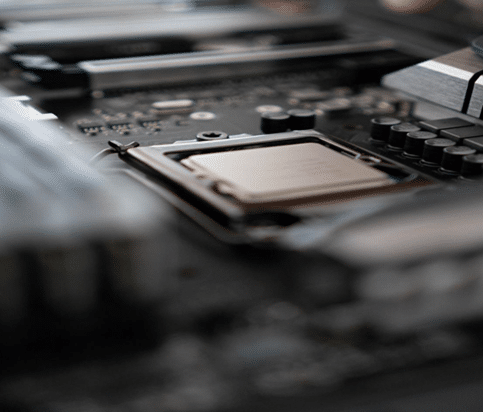 With the increased market demand for AMD Ryzen Servers, vendors have had a hard time keeping enough of these in stock to service demands since they often sell out before even hitting the data centers (and is especially the case here at ServerMania). AMD cannot seem to keep up with demand, with many people reselling or even hoarding the 3900s for crypto. The scarcity of hardware is currently an issue for AMD, whereas Intel's long history has allowed for a more reliable supply chain.
The most popular CPUs among enterprise customers is the beast we know as the AMD Ryzen Threadripper 3990X which offers plenty of power and speed with its remarkable 64 cores, and 128 threads, making this the most powerful processor for product performance. This affordable processor is based on their Zen 2 microarchitecture, and is fabricated on TSMC's 7 nm process. It also supports 64 PCIe lanes at 4.0.
A comparable processor would be the Xeon 6338 Gold Series with its powerful 32 cores, 64 threads base clock speed of 2.0 Ghz, with max. turbo frequency of 3.2 Ghz. This processor is based on the X86 architecture and is highly sophisticated, allowing the Xeon line to suit a widening array of complex applications. Much like the 3990X, this processor also supports 64 PCIe lanes at 4.0.
It is worth mentioning again the Intel chips come with an integrated graphics card, whereas AMD does not.
Browse our Intel and AMD Dedicated Server Options
Epyc Considerations
The war for domination must include AMD's Epyc Series. Released two months prior to the 3950 was AMD's EPYC 7402P which is a 64-bit tetracosa-core x86 server microprocessor and comes with 24 cores and 48 threads. It has a base clock at 2.8GHz, max speed at 3.35GHz, and a 180W power rating. This processor supports single-socket configurations only and up to 4 TiB of eight channels DDR4-3200 memory per socket. Epyc 7402P is based on the Rome 7nm family and part of the EPYC series.
Due to its massive memory bandwidth, capacity and exceptional I/O, this monster of a server processor is designed for intensive computational tasks such as artificial intelligence (AI) and high-performance computing such as industrial or military applications.
Callout Graphic. Copy: View These Servers (link)
Price Comparison
AMD holds the title for more affordable of the two, however, Intel is doubling down AMD's increased competitiveness over the past few years by adding more cores, threads, and power to the mix. And unlike an AMD processor, there is no increased gen-on pricing for these new processors, resulting in a better price-per-core and price-per-thread. As a response, AMD reduced its prices and stepped up the competition.
If you want an AMD Ryzen 9 (16 cores), you would be looking at a price in the vicinity of $600-800, whereas a comparable Intel processor would be the 2699 E4 would cost around $4000, but if you wanted a Xeon E5 2690 (14 cores), you would be looking at only $2000.
You should note that the Ryzen line does not offer dual CPU formats until you get to the Epyc which will run you around $4000-5000 per chip. If you do go with AMD, you will be required to purchase a separate dedicated graphics card.
Check out our 10GBPS Unmetered Dedicated Servers
Which is the Best CPU?
This article has covered the never-ending argument of comparing AMD vs Intel and who makes superior CPU architecture between two major corporations. It all comes down to your specific use and preference about AMD vs Intel.
CPU performance is about the same, depending on which line you go with, with the largest difference being the price between Intel and AMD.
Suppose you are looking for a high core count in the top segment. In that case, AMD CPUs hold an advantage with more core and thread count and a better price-per-dollar performance ratio.
On the flipside with Intel allowing for dual CPUs on the motherboard chipset, the Xeon E5-2695 v2 offers the better price-per-dollar performance ratio.
We understand that not everyone has the time to research all of their options, and the information available online can be much to sort through. We would encourage you to book a free server hosting consultation to provide answers to your questions about server hosting from our experts without any obligation or cost.
In addition, if you are looking for more help in deciding between AMD's Ryzen processors and Intel's Core series, which have similar features but with different price tags or need some assistance figuring out what type of processor might be best suited for your needs, you can browse our Intel and AMD Dedicated Server Options.