It's Official, ServerMania is a Great Place to Work
We're proud to announce that ServerMania been certified as a Great Place To Work®. Achieving this great milestone shows that our efforts to create an environment based on respect, trust, and collaboration have paid off. We truly believe that happy and engaged employees are key for any organization to reach its goals. That's why we are proud to receive this certification as it is a reflection of our collective effort to provide our employees with the resources they need to flourish.
Our success as a Great Place To Work® has been attributed to several factors, so let's take a deeper dive into what made this possible: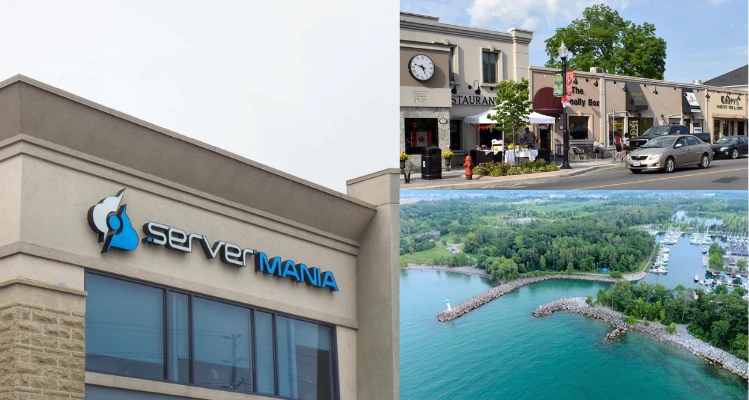 Culture of Trust and Collaboration
At ServerMania, we believe that trust is the building block of any successful workplace. We strive to ensure that open dialogue, respect and collaboration is at the heart of everything we do. From our executive team to our newest hires, we actively encourage everyone to share their perspectives and insights. Moreover, this culture of collaboration creates a sense of unity and inclusivity that makes everyone feel a part of the team.
Employee Well-being at the Core
We prioritize the well-being of our staff and understand that a balanced life leads to better performance. As a result, we have implemented several company initiatives to promote physical and mental health at work. This includes flexible work hours, comprehensive health coverage, and resources for personal growth and development. At ServerMania, our goal is to ensure each employee feels supported and motivated in their daily work.
Opportunities for Growth and Development
We understand that our success relies on the growth and development of our employees. That's why we are committed to offering ample opportunities for learning, skill building, and career progression in order to foster a culture of continuous growth. Additionally, our performance management system recognizes and rewards exemplary work, demonstrating that hard work never goes unacknowledged.
Celebrating Diversity and Inclusion
At ServerMania, we recognize that diversifying our workforce encourages creativity and innovation. That's why we celebrate the differences among us, including background, culture, perspectives, and more. We believe that it is important to create a workplace environment where everyone feels valued and respected for their individual contributions. With this inclusive attitude, we are able to foster collaboration and growth in an open and inclusive work environment.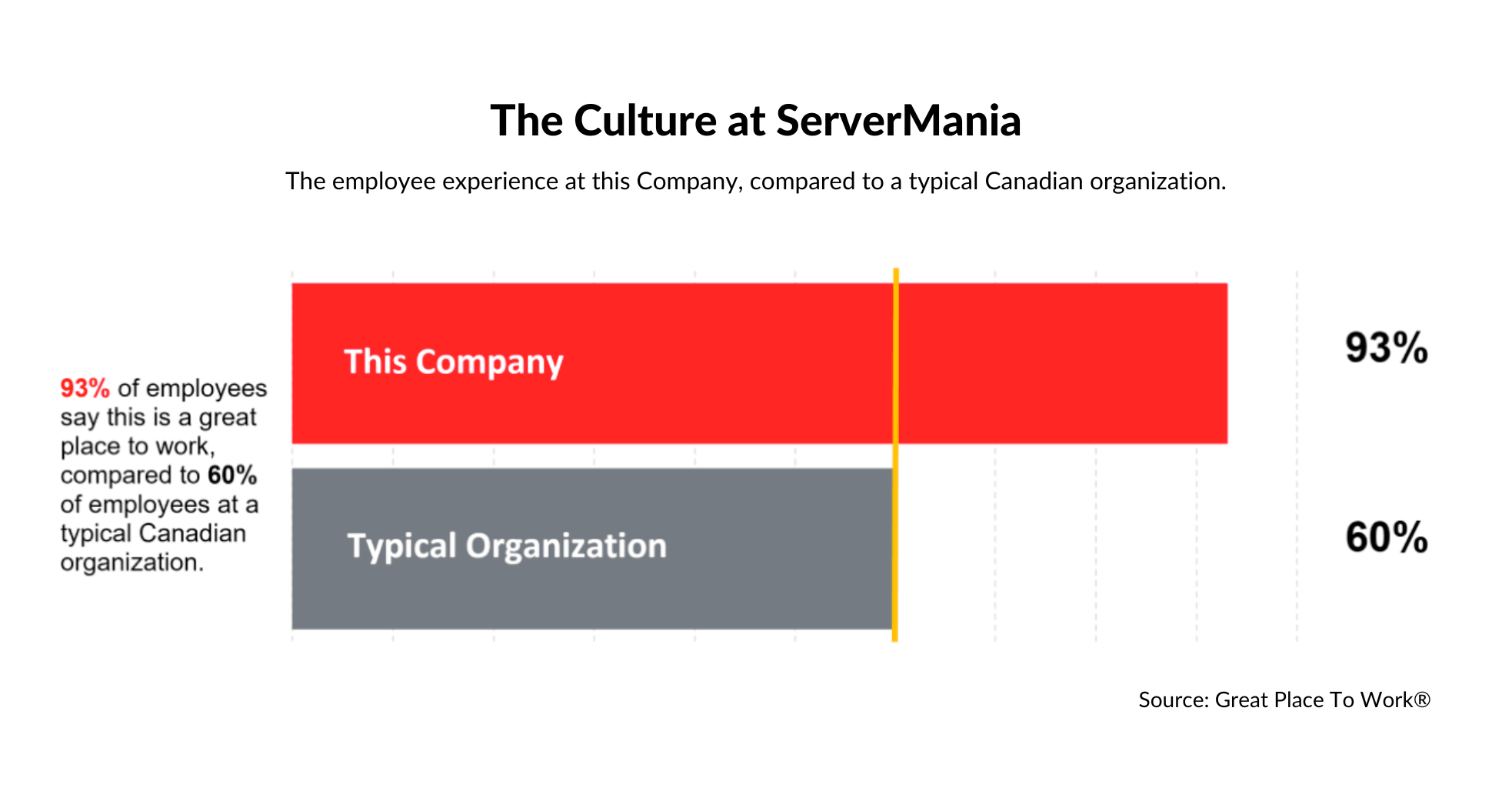 The Great Place To Work® certification not only acknowledges the leading products and services we offer, but also the human-centered culture we have created and maintained at ServerMania.
We would like to extend our deepest appreciation to every member of our team for their tireless efforts and passion in achieving success. We are immensely proud of all that we have accomplished, and could not have done so without the dedication and commitment of each and every employee.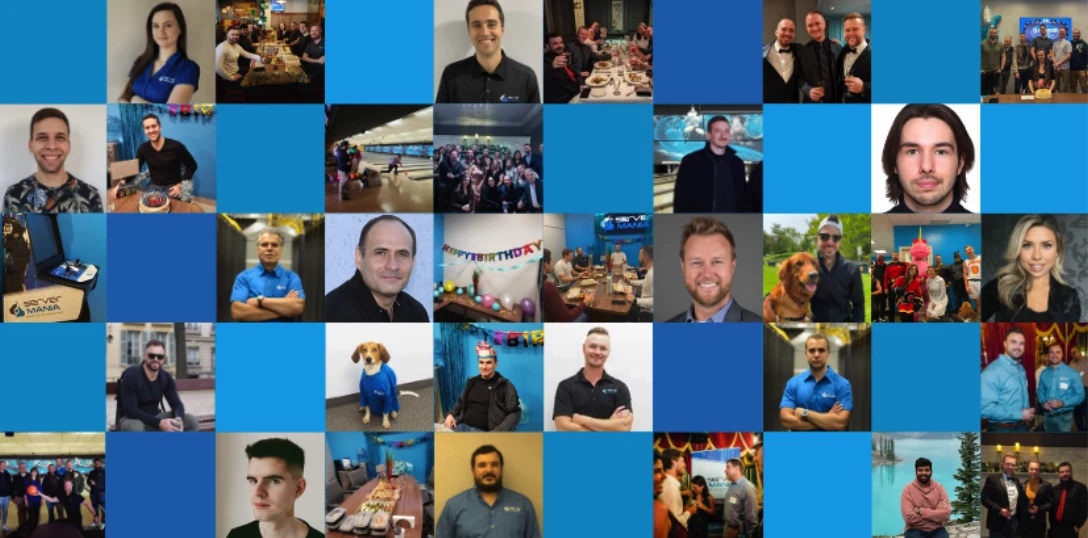 In addition, we would like to thank our customers and partners for their continued support. Their unwavering commitment have played a huge factor in driving our company forward.
As we look to the future, we remain committed towards raising the bar for workplace excellence!
Unlock your potential
Are you looking for a career in web hosting, game servers, websites, cloud memory, data centers or other server solutions? If so, ServerMania could be the perfect place for you. We're a forward-thinking employer that takes each application seriously and values the importance of having happy, healthy and productive employees. If you're looking for a great opportunity to develop your skills and grow in the server solutions industry, ServerMania is here for you.
Find out more about us or check out our careers page to see open positions.
About ServerMania:
ServerMania is a Canadian company with over a decade of experience building high-performance infrastructure hosting platforms for businesses globally. We offer a wide range of fully customizable dedicated, hybrid, cloud, colocation, and IP Transit services in 9 state-of-the-art data centers across Canada, the United States, Europe, and New Zealand.
Our mission is to empower clients by equipping them with fast, reliable, innovative infrastructure hosting while upholding a 100% network uptime SLA. This is assisted by a 24x7x365 rapid response team — one with some of the best response times in the industry.
About Great Place To Work®:
Great Place to Work® is the global authority on high-trust, high-performance workplace cultures. Through proprietary assessment tools, advisory services, and certification programs, Great Place to Work® recognizes Canada's Best Workplaces in a series of national lists including those published by The Globe & Mail (Canada) and Fortune magazine (USA). Great Place to Work® provides the benchmarks, framework, and expertise needed to create, sustain, and recognize outstanding workplace cultures. Learn more at www.greatplacetowork.ca or check them out on Twitter at @GPTW_Canada.