Why Bandwidth is Important to SaaS Startups: Tips and Tricks for Controlling IT Spend
When a business is in the startup process, but especially in the case of SaaS startups, there is often a rush to deploy a large amount of servers to meet the needs of a growing user base.
"It was growing so fast that we were constantly about to fall down […] We literally had the number of the customs agent. They would call us when a shipment of Dell servers arrived so we could run to the colo."

Caterina Fake, co-founder of Flickr, recounted on the Startup Podcast.
With this rush of new server deployments, there is often not enough time to think about the long-term consequences that the cost of bandwidth will have on a business.
While it may seem like the best choice to choose a large provider who can instantly deploy server instances like Amazon Web Services, this decision comes with a cost. AWS bandwidth pricing is significantly more expensive than traditional bare-metal hosting providers. This is why businesses need to pre-plan their bandwidth needs and project for future growth.
What is Bandwidth?
Before diving into why bandwidth and bandwidth pricing is so important, it's important for you to understand what bandwidth is if you are not familiar with the concept.
Sometimes referred to as traffic, network bandwidth is the amount of data which can be transferred to and from a server in a monthly period. This could be a metered amount of bandwidth, such as 20TB of transfer on a 1Gbps connection speed, or unmetered, where you can use as much data as required on the 1Gbps port.
Why is bandwidth pricing important?
Simply put, bandwidth pricing is important because choosing the wrong provider can result in outrageously expensive bandwidth bills.
As well, not all bandwidth is created equal. We are not advocating on choosing a provider simply because they offer cheap bandwidth. There are plenty of mediocre network providers who will supply 1Gbps of unmetered bandwidth for $99/month. Sounds great, right? These are cheap prices on low quality bandwidth. As such, connectivity to your server is likely to be unreliable and you may experience high latency.
That's why you need to choose a provider that features affordable business bandwidth on premium network routes. This will be a fair price for the level of service your business deserves.


"We are using our ServerMania Dedicated Server to deliver music into our Delivery Platform. AWS charges through the roof for bandwidth and so working with ServerMania seemed like a more sensible step to take."

Developer, SpareMusic.com
How much bandwidth do I need for my business?
Every business is unique and will have completely different bandwidth requirements. For example, a SaaS startup streaming video or sharing other media files will require significantly more bandwidth than a cloud accounting software.
As bandwidth is issued on a per server basis, the amount of servers that will be used to distribute the load will also impact bandwidth requirements. A business running 20 of our standard dedicated servers will have access to 20TB of bandwidth on each server, but if the same business uses one very large server, they would only have access (by default) to 20TB of bandwidth. Of course, they can purchase additional bandwidth for that server, but the amount of servers is an important consideration when determining bandwidth costs.
If your business is relatively new, you can start by looking at the current network usage of the average user in a day and extrapolate that out based on the rate that new users are joining the platform. If you have absolutely no current user data, we'd suggest going with the standard 20TB bandwidth plan and upgrading in the future as needed.

The ServerMania Surge control panel allows you to monitor bandwidth usage to determine average and projected levels.
How is bandwidth billed?
As mentioned, bandwidth is either billed in a metered or unmetered format. Depending on the amount of bandwidth your business requires, you may find that one option is more affordable than the other.
ServerMania Bandwidth Pricing
Dedicated server bandwidth pricing ranges from 20TB included for free to $500 on a unmetered 1Gbps port.
| Bandwidth Amount | Price |
| --- | --- |
| 20TB | INCLUDED FREE |
| 30TB | $40 |
| 40TB | $60 |
| 50TB | $80 |
| 100TB | $160 |
| Unmetered | $500 |
AWS Data Transfer Pricing
AWS bandwidth pricing is about $0.15/GB for the first 10TB, $0.11/GB for the next 40TB, $0.09/GB for the next 100TB and $0.08/GB for over 150TB.
AWS does not charge for incoming bandwidth, so there is not a 1:1 comparison between AWS and ServerMania, but here are a few scenarios:
| Bandwidth Amount | Price |
| --- | --- |
| 20TB (10TB incoming / 10TB outgoing) | $921.51 |
| 30TB (15TB incoming / 15TB outgoing) | $1356.71 |
| 40TB (20TB incoming / 20TB outgoing) | $1791.91 |
| 50TB (25TB incoming / 25TB outgoing) | $2227.11 |
| 100TB (50TB incoming / 50TB outgoing) | $4403.11 |
| Unmetered | Not Available – $11571.11 for 150TB of outgoing bandwidth. |
How do I control bandwidth spending for my business?
Choose the Right Provider
Once you've estimated the amount of bandwidth your business will need for the foreseeable future, review the bandwidth pricing of your server provider to make sure that bandwidth costs will be reasonable for your needs.
You may find that the API and ease of automation outweigh the increased bandwidth costs. However, most businesses find that the average 8 hour setup time of a bare-metal dedicated server are worth the wait in exchange for reduced network costs.
Utilize Content Delivery Networks
Depending on the type of content being delivered, it may be cost effective to offload some server content to a Content Delivery Network such as CloudFlare. In this way, users will be accessing content from the servers of the CDN, which will alleviate bandwidth costs on the source server.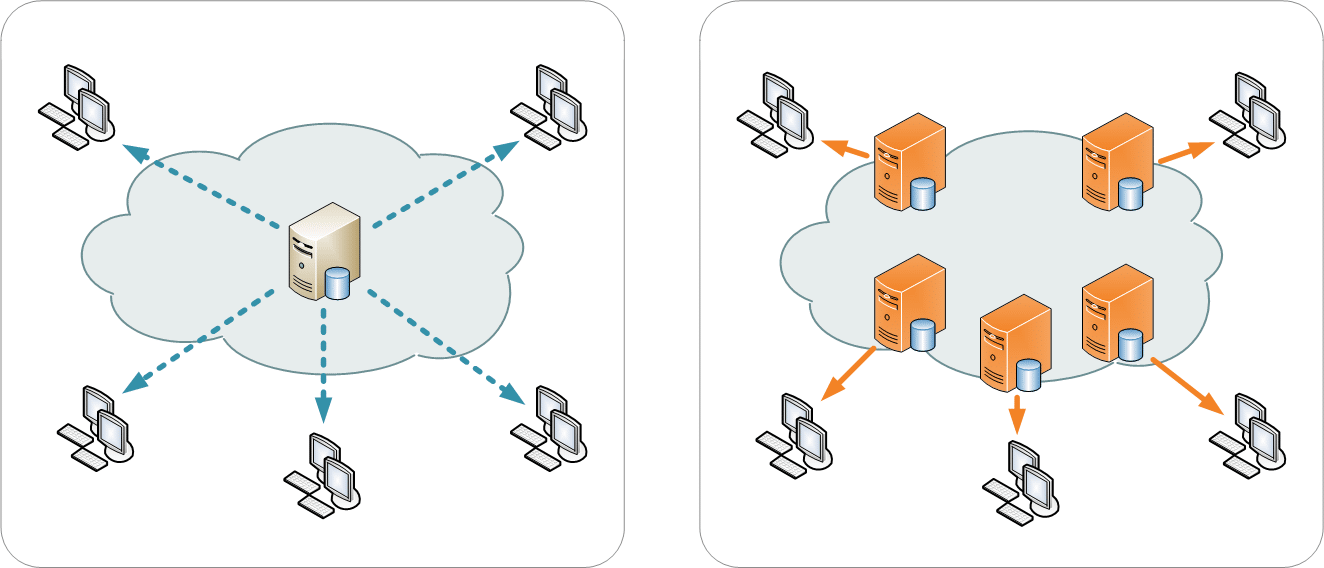 Compress Images and Choose Codecs Wisely
If you are serving image or video content to a large number of users, compressing images and choosing bandwidth efficient codecs will do wonders in reducing the total amount of outgoing bandwidth a server uses.
Speak to a Human
It's always a good idea to book a consultation and discuss your specific business needs with a server expert. That way, you don't have to settle for a cookie cutter solution and can receive a custom quote based on your particular needs. One of the key benefits of working with ServerMania is a dedicated Account Manager to work with you as your business grows.
In Summary
It's important for SaaS startups to take the time to analyze their projected bandwidth needs as they begin to deploy servers to reduce excessive bandwidth costs in the future. Businesses can control IT bandwidth spending by choosing the right provider, receiving a custom server quote, utilizing a Content Delivery Network, and setting up image / video compression.
Still have questions about reducing bandwidth costs? Book a free consultation today and we'll help you choose the right bandwidth plan for your needs.